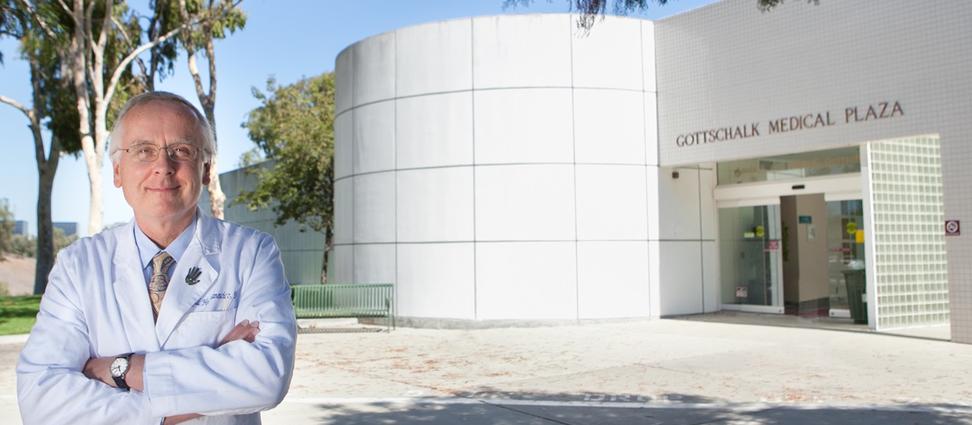 Letter from the Director
Neal Hermanowicz,MD — Movement DIsorders Program
UCI has a longstanding commitment to people with Huntington's disease (HD) and their families, both in providing care to patients and in research toward a cure.  We have on our campus a great deal of experience on both fronts.  In the clinic we provide care with knowledge and experience in this uncommon diagnosis.  Moreover, we are able to offer our patients the opportunity to participate in research that enables us to better understand Huntington's disease and also clinical trials  of treatments under study to alter the disease course.
UCI is a participating site in an international study known at ENROLL HD.  This study is a being conducted by investigators around the world to learn more about the disease and also to establish an global network to share ideas and investigate treatments.  UCI also is a site for clinical trials conducted through the Huntington Study Group (HSG), a mostly North American consortium of investigators working together to study new treatments.  Through the HSG we are engaged presently in two trials, both of which are examining methods of potentially slowing the disease progression.
GENETICS COUNSELING 
Terry R Randall 
Clinic Manager
Phone: (949) 824-6202
Email:  [email protected]
DEPARTMENT OF GENETICS & GENOMICS 
Pam Flodman
Genetics Counselor, UC Irvine
Email:  [email protected]
June Anne Gold
Genetics Counselor
Email:  [email protected]
Phone: (714) 456-5789
or (949) 824-9786
HDCARE CLINIC
1 Medical Plaza Dr.
Irvine, CA 92697
Huntington's Disease Center of Excellence at UC Irvine has a new social worker!
Clinic hours at Gottschalk Medical Plaza: Tuesdays and Fridays from 8am to 4:30pm.
1st and 3rd Wednesday's of the month from 8am to 4:30pm
Contact information: 
Gladys Newbury, MSW
Clinical Social Worker II
Email: [email protected]
Desk #: 949-824-7715
ucirvinehealth.org
Trauma Intervention Program (TIP)
Here is the phone number to OC TIP and Riverside County TIP:
OC: 949-614-6333 https://tiporangecounty.org/
Riverside: 951-698-2453 https://www.tipswrc.org/