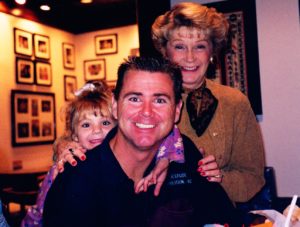 Linda Oades Pimental lost her husband, Steven to HD in 2001.  With her 21 year-old daughter Stephany Oades at risk for Huntington's Disease having a 50/50 chance of inheriting the disease, Linda worked with UC Irvine to establish the Steven Oades Memorial Research Fund.  Like many HD patient families, Linda and her family and friends desired to have their hard earned and generous donations to go directly towards research.  Whether or not you knew Steve, anyone can donate towards research at UCI by making a donation to the Steve Oades Memorial Research Fund.​
UCI's Huntington's Disease research program is world class and is in great need of financial support so that the dedicated researchers can continue their invaluable work. The UCI Foundation has set up a specific account, whereby 100% of the value of the donation goes towards the mission, to find a therapy or cure for this devastating disease. The research monies donated will go towards Dr. Leslie Thompsons's laboratory, which has been on the forefront of many studies. Dr. Thompson's laboratory was the first to create a human model of HD through stem cells donated from the skin of affected individuals. Her research not only utilizes stem cell research but also involves novel drug or therapeutic targets. As a researcher on the team to identify the huntingtin gene, Dr. Thompson is kept abreast of cutting-edge advances in the HD field but also in the scientific community in general. Along with her scientific contributions to the HD research field, Dr. Thompson has played a pivotal role in the HD patient community and has personal relationships with many HD patient families. She epitomizes the idea that we are all in this fight together. To donate, click on the DONATE TO THE STEVEN OADES FUND now!
Donate to the Steven Oades Fund
When donating please indicate "Steven Oades" in the comments or select "My Gift is in Memory or Honor of Someone"