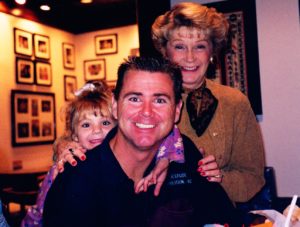 Linda Oades Pimental lost her husband, Steven, to HD in August, 2001. In 2017, Linda's daughter, Stephany, made the decision to test for the Huntington's Disease gene. Stephany and her family shared some concerns and agreed that "knowledge is power" and having this knowledge would enable clarity and purpose in future decisions. Stephany tested gene positive for Huntington's Disease and Dr. Neal Hermanowicz of UCI's Gottschalk Movement Disorder Clinic,  confirmed that Stephany was already symptomatic. Stephany has handled this devastating news with strength, grace and hope. 
Many years ago, Linda approached the UCI Foundation and together they worked to establish the Steven Oades Memorial Research Fund. To date (August 2017), this fund has raised over $200,000 which has gone directly to Dr. Leslie Thompson's HD research. Sisters, Stephany Oades and Tammy Toomire have joined their mother, Linda, in the annual Memorial letter writing endeavor to honor their father's wish to aid in the effort of finding a treatment or cure for HD.  
Donate to the Steven Oades Fund
When donating please indicate "Steven Oades" in the comments or select "My Gift is in Memory or Honor of Someone"